L
ots of interesting things going on lately, and if I decide to ressuscitate the blog after more than 3 months of absence, it's because I've done some thinking about what I want to blog about.
And now I know:
The Styllustrator will remain The Styllustrator
, but the illustration will change: less graphical personal works and more reviews, critiques and comments on the international fashion scene.
This is what I do best and I hope you like what I've planned this year.
Beaucoup de choses se passent dernièrement, et si j'ai décidé de ressusciter le blog après plus de 3 mois d'absence, c'est parce que j'ai bien réfléchi sur ce dont je veux vraiment parler.
Et à présent, je le sais: The Styllustrator restera The Styllustrator, mais la manière d'illustrer changera; moins de travaux graphiques personnels et plus de critiques et commentaires sur la scène mode international.
C'est ce que je fais le mieux et j'espère que vous aimerez ce que j'ai préparé cette année.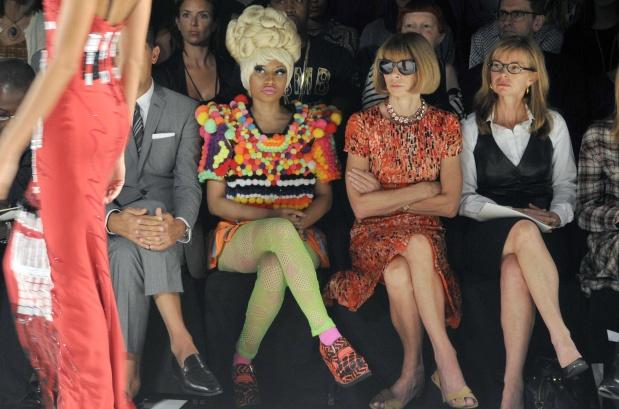 So we've all spotted the general trends for next summer.
New York took us for a ride of pure sport-chic lightness with some edgy ethnic details here and there (please don't bring back tribal fashion, happened only 2 years ago).
London showed bright yellow, blank white more ethnic patterns sharp cuts more than soft and curvy flowing dresses.
Milan poured a little bit of everything in the mix (as always) and we saw as much minimalism as colorful extravaganzas, but generally next season will be more about being sweet and color-bold than just plain sexy.
And now Paris, my town. Many things to look forward to:
1. We shall see if July's Dior Couture fiasco will repeat itself in the form of a messy, scrapbook-ey ready-to-wear.
2. We'll get to know many new designers who'll try to show us what they're capable of now that they passed the Fédération Française du Prêt-à-Porter's test.
3. We'll probably find out if Raf Simons IS replacing Stefano Pilati at YSL.
4. We'll witness Olivier Rousteing's debut as CD of Balmain, and see if he can make us forget Decarnin's first successful, then decadent influence on the fashion house.
5. We'll confirm that Manish Arora can actually adapt Paco Rabanne's legacy to the 2010's
6. We may or may not discover Kanye West's first and exclusively showcased collection.
7. We'll finally appreciate Guillaume Henry's true style (what he sketches when he's not at Carven)
8. We'll decide whether to regret Antonio Marras' departure from Kenzo or embrace the Leon-Lim duo's fashion point of view.
9. We'll not be disappointed (we never are, anyway) by Karl Lagerfeld's new breathtaking giant installation for the Chanel show at the Grand Palais.
10. We'll know what Riccardo Tisci designed for Givenchy next season and that is always a
MUST.
See? Paris will likely be the most interesting fashion week of them all, people.
So brace yourselves and enjoy the party...
A
lors on a tous repéré les tendances en général pour l'été prochain.
New York nous a proposé une légèreté très sport chic avec quelques détails ethniques par-ci par-là (s'il vous plaît, pas le retour de la mode tribale, on a eu ça il y a que deux ans).
Londres a montré du jaune canari (un hommage aux préférences de Sa Majesté?), pas mal de blance et plus de motifs ethniques. Oubliez les silhouettes douces et les jolies courbes, et optez pour des coupes anguleuses.
Milan a ajouté un peu de tout dans le mélange (comme toujours) et on a vu tant de minimalisme que d'extravagances chatoyantes, mais grosso modo, l'été prochain favorisera celles qui oseront la couleur et les petites robes flottantes plutôt que celles qui fonceront sur le sexy.
Et maintenant Paris, ma ville. On s'attend à de nombreuses surprises:
1. On verra si le fiasco Dior Haute Couture de juillet se répètera dans la forme d'un prêt-à-porter incohérent et exécuté à la manière d'un livre de découpages pour enfants.
2. On connaîtra les nombreux nouveaux créateurs qui essayeront de nous montrer ce dont ils sont capables maintenant qu'ils ont passé le rigoureux examen de la Fédération Française du Prêt-à-Porter.
3. On saura probablement SI Raf Simons remplace Stefano Pilati chez Yves Saint Laurent ou pas.
4. On observera de près la première collection d'Olivier Rousteing pour Balmain, et on verra s'il nous fait oublier l'influence, d'abord réussie, ensuite décadente de Christophe Decarnin sur la maison.
5. On confirmera que Manish Arora est effectivement capable d'adapter l'héritage de Paco Rabanne aux années 2010.
6. On découvrira (ou pas) la première collection signée Kanye West, exclusivement dévoilée.
7. On appréciera finalement le style authentique de Guillaume Henry, et ce qu'il dessine quand il n'est pas chez Carven.
8. On décidera si on doit regretter le départ d'Antonio Marras de Kenzo ou applaudir le point de vue esthétique du duo Leon-Lim.
9. On ne sera pas déçus (on ne l'est jamais, d'ailleurs) par la nouvelle installation géante de Karl Lagerfeld au Grand Palais, à l'occasion du défilé Chanel.
10. On apprendra ce que Riccardo Tisci a préparé pour le printemps 2012 chez Givenchy, et ça, c'est toujours un MUST.
Vous voyez? Paris sera très probablement la Fashion Week la plus intéressante du moment.
Préparez-vous donc et profitez de la fête!