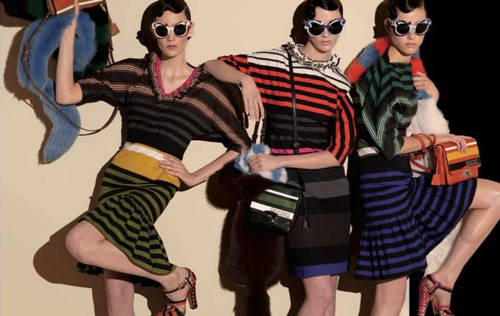 OK, voilà ce que je prépare pour que le blog démarre comme il faut:
1. Une divagation illustrée sur une des questions les plus angoissantes de la mode aujourd'hui:
QUI REMPLACERA GALLIANO CHEZ DIOR???
2. Un hommage (illustré également, bien sûr) à la magnifique collection printemps/été 2011 de Prada: comment jupes-bananes, rayures fluo et lunettes néo-baroques peuvent habiller des vedettes du présent et du passé: de la sublime afro-américaine qui envahit les cabarets parisiens dans les années 20-30 à une certaine chef des secrétaires voluptueuse de la série "Mad Men"...
3. Un reportage photo (et dessins) de la toute nouvelle rétrospective de la couturière française
Madame Grès
au Musée Bourdelle, à Paris...
N'oubliez pas de venir voir ce qui se passe!
OK, esto es lo que preparo para que el blog comience como se debe:
1. Una divagacion ilustrada sobre una de las preguntas mas angustiantes de la moda hoy en dia:
QUIEN REMPLAZARA A GALLIANO EN DIOR???
2. Un homenaje (ilustrado también, claro esta) a la magnifica coleccion primavera/verano 2011 de Prada:
o como faldas de banana, rayas de neon y lentes de sol neo-barrocos pueden vestir a estrellas del pasado y del presente: desde la sublime afro-americana que invadio los cabarets parisienses en los anos 20-30, a cierta secretaria en jefe voluptuosa de la serie "Mad Men"...
3. Un reportaje en fotos (y dibujos) de la nueva retrospectiva de la disenadora francesa Madame Grès en el Musée Bourdelle, en Paris...
No olviden venir a ver lo que pasa!
O
K, this is what I'm preparing to start this blog off properly:
1.An illustrated article around one of the most distressful questions in fashion today:
WHO'S REPLACING GALLIANO AT DIOR???
2. A tribute (illustrated too, obviously) to
Prada
's magnificent spring/summer 2011 collection:
how banana skirts, neon stripes and Neo-Baroque sunglasses can dress up stars from the past and the present: take the gorgeous African-American gal that took over Parisian cabarets in the 20s and 30s, or a certain sexy secretary-in-chief from the "
Mad Men
" series...
3. A report with photos (and drawings) of the
new retrospective dedicated to French designer
Madame
Grès
at Musée Bourdelle in Paris...
Don't forget to check out the blog to see what's up!